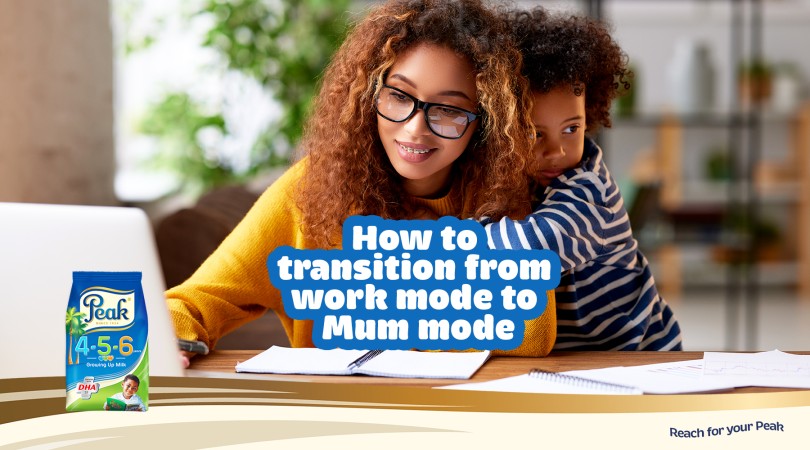 Segun Aruleba
April 4, 2023
Peak 4·5·6 Smart Mums
How To Transition From Work Mode To Mum Mode
For working mothers, it's often hard to transition from managing your professional job to your job as a mother. Both jobs are beneficial and come with their own rewards but when you let work life spill into mum life, it ultimately affects your relationship with your child. It is important that you learn how to separate both parts of your life, so you can give your child the attention they need. Here are a few tips to help:
Me-time is a must
Give yourself a clear break after office hours. Take a few minutes or an hour after work to decompress and re-energize yourself for an evening of cuddling, cooking, and cajoling that awaits you. You can treat yourself to a nice meal alone, blast some music on the way home, go to the gym or even take a power nap so that when you see your little ones, you feel ready to give them all the love and attention they deserve.
Leave work at the office
Don't bring work home with you. Roll over any unfinished workload to the top of your to-do list for the next morning. This is easier said than done but if you don't stick to it, you might find yourself sucked back into work during family time.
Don't work overtime
Don't be afraid to say "No" when asked to stay late, especially if it's an impromptu request. Let your boss know that your family comes first. If you're seen as a pushover, it may become a regular occurrence.
Drop your phone
Technology has made it easy for us to connect to the office, even on our phones. You can access work files, emails and communicate with your co-workers at any time of the day, which can be a hindrance to family time as it makes it easier to slip back into work mode. One minute you're checking an email reply, and before you know it, you're back at work.
Rather than unwind with Netflix or a game on your phone, try a non-technological activity e.g., board games with your family. This also establishes a "no phones during family time" rule that your children can grow up with.
Bond with your family
They are the reason you work so hard after all, so, cook dinner, eat together, and talk about your days. Find a hobby that's enjoyable for the whole family. Have movie nights with popcorn and a yummy glass of milk. If you practice these tips, you will have more free time and be in the best mood to care for your family and continue raising strong, smart children.