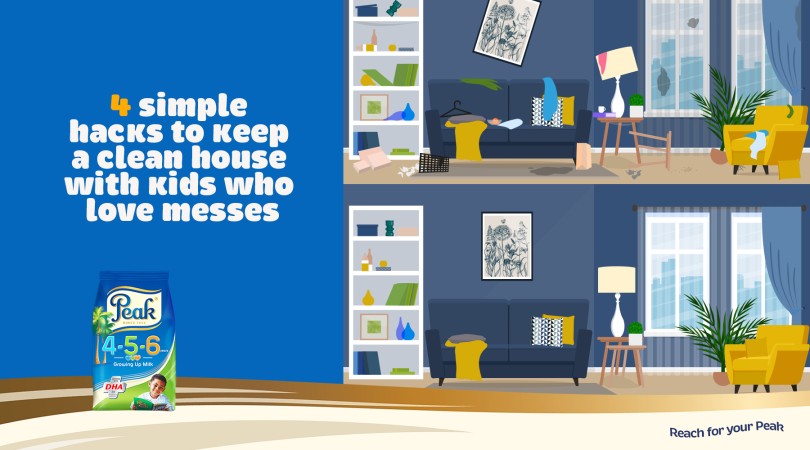 Segun Aruleba
April 4, 2023
Peak 4·5·6 Smart Mums
4 Simple Hacks To Keep A Clean House With Kids Who Love Messes
Parenting in this modern world can feel a lot like living on a deserted island. The weight of the world is on your shoulders. You're the maid, the taxi driver, the sport director, the parent, the life coach, the chef and more.
Here's the good news:
Keeping a tidy and nice looking home while you're raising kids doesn't have to be hard. It's all about developing routines, using systems, and embracing decor that will serve YOU.
1. Minimize what is available.
You can't make a mess out of something that isn't there. We live in a world where we are encouraged to buy one thing after the next. Take more of a minimalist approach.
Keep a capsule wardrobe for both you and the kids. This is where your wardrobe contains a few essential and timeless items that all coordinate together, less laundry, less overstuffed drawers.
Keep the toys minimized to what the kids actually play with. Then, put the rest up away in a closet. This is like toy rotation, and you can keep the toys up and away until the kids ask for them OR you can swap them out every few months.
Clean out the kitchen items to what you're using. The kitchen is one of the most frequented rooms in the home. Paring down what's there will help keep the counters clean and tidy.
2. Put a "tidy kit" within a child's reach.
The kids cannot help out if things are not at their level. So, for example, keeping a set of plates, bowls and cups in a lower kitchen drawer can make it easy for the kids to set the table and put dishes away.
Another example is clothes: Keeping the kids' most frequently worn items in the lower dresser drawers helps them put away their own clothes and pick out their clothes and pyjamas during the morning or bedtime routine.
3. Chose items that are washable, easy-to-maintain.
Keeping furniture, rugs and curtains in the house that are not durable for family life makes for a lot of frustration. You can have nice things; they just need to be things that hold up well with kids!
Before bringing a piece of furniture or decor into your home, think: Can this be easily washed, wiped down or updated? If the answer is no, then don't bring it home.
4. Don't underestimate the kids. Keep them involved.
Kids who do chores are more successful adults. Even though it takes more time to get the kids involved when they are younger, it will pay off in spades later in life. When kids make a spill, we hand them a towel and show them how to clean it up. We also move toy clean up and tidying to the afternoon, so it's not one big high drama toy pick up before bedtime. Kids are often tired in the evening right before bed. Moving the responsibility lessons and tidying to the afternoon makes a world of difference.
If you ever find yourself saying, "See! This is why we can't have a nice home," remember this: You can have a clean home with messy kids so long as the routines, family systems and decor serve YOU.