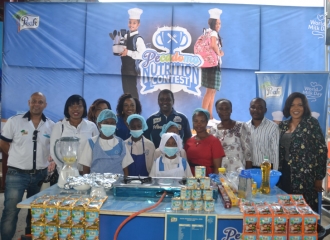 Stephan Belitz
August 7, 2017
Peak Activation
World Milk Day 2017
It was an entertaining, informative and amazing time at the Lagos State Television, LTV grounds on June 1st, 2017 when 5,909 children from several schools gathered for the World Milk Day celebration.
Almost 2,000 schools displayed a high level of interest in the contest, however only 10 schools qualified for the grand finale to cook before a live audience. The first position was clinched by Whitefield High School and was awarded N500, 000 cash price. Susan Memorial School and Birell Avenue School were second and third respectively and were also awarded cash prices of N300, 000 and N150, 000. Appreciation was also shown to 10 Home economics teachers who were rewarded.
To watch the children do their thing on a professional level was Chef Victor Akpojovwo of KitchenVictore, who joined the project this second season. His job for the project was to access what the schools put together; "We have done a lot with them in the past three weeks and they put up really impressive acts. Today they will be working on a time line and they will be working in front of people, so there is a tendency to have pressure set in, however we are looking for the best application of Peak which is Nigerians number one milk and how well they can apply this in their everyday cooking beyond the use of tea." "So far, it has been an awesome experience with a lot of learning that has gone on in the process."
Indeed it was a wonderful and fulfilling time and event for all involved, as both participating schools, winners as well as the organizers look forward to the third edition!