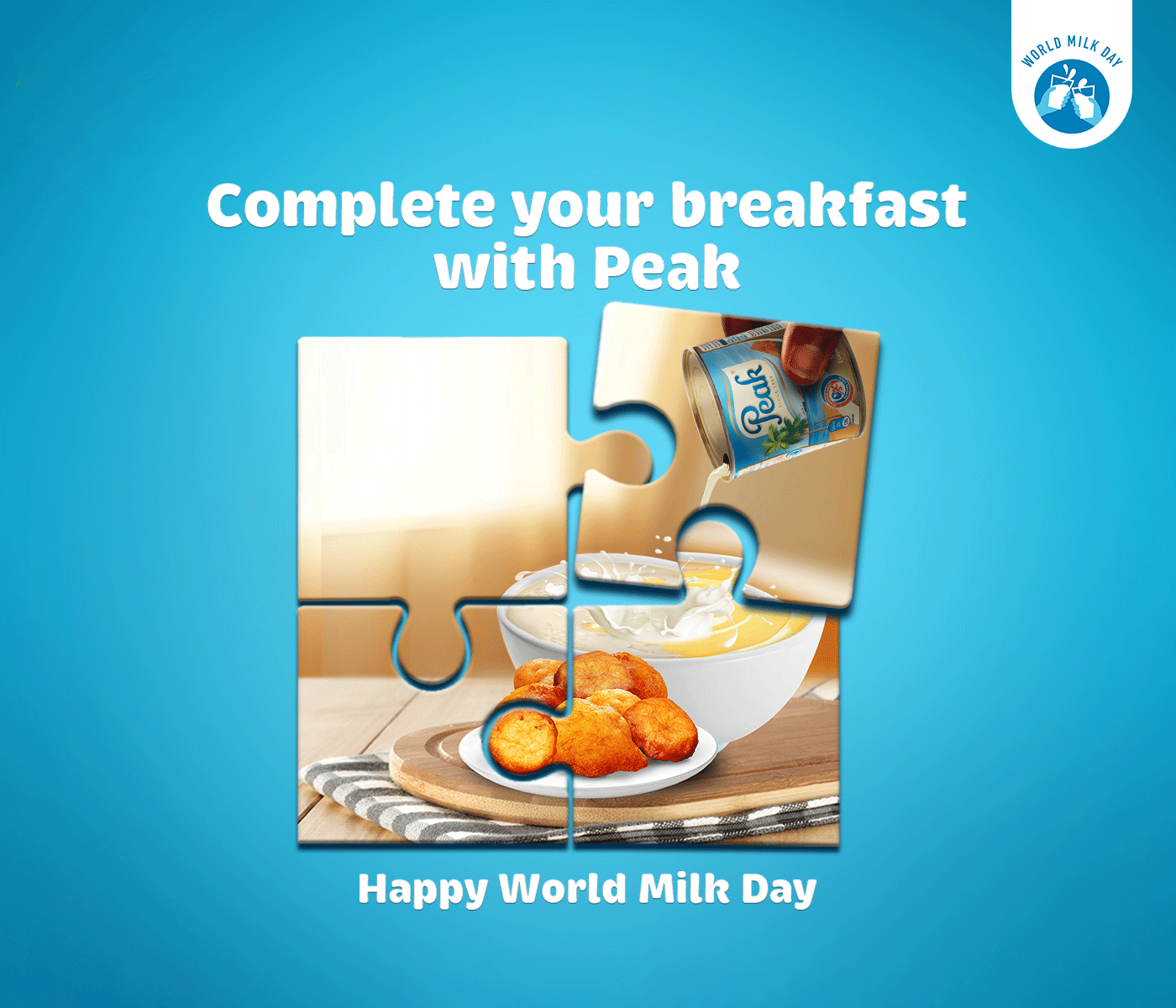 World Milk Day
Peak Milk, Nigeria's leading dairy brand, is delighted to announce the launch of its highly anticipated National Breakfast Week and World Milk Day Campaign for 2023. As a brand committed to promoting healthy lifestyles and emphasizing the importance of milk consumption, Peak Milk aims to engage directly with consumers across the country through bold and impactful executions during this campaign.
World Milk Day, celebrated globally in the dairy sector, provides an exceptional platform to highlight the significance of milk and raise awareness about its consumption. Peak Milk recognizes this opportunity as a perfect occasion to create widespread awareness of the breakfast culture in Nigeria.
This year, Peak milk aims to celebrate National Breakfast week and World Milk Day with a campaign themed "A complete breakfast is a Peak Protein Breakfast". This campaign underscores the importance of incorporating Peak milk into breakfast routines across Nigerian households.
"Skipping breakfast or having an incomplete breakfast can significantly impact one's well-being. An incomplete breakfast is one that lacks the necessary ingredients, such as Peak milk, and unfortunately, many Nigerians are guilty of this oversight," said Mrs. Omolara Banjoko, Marketing Director of Peak Milk.
She adds; "As Nigeria's leading dairy brand, it is our responsibility to educate consumers about the significance of breakfast consumption, and not just any breakfast, but one with all the key nutrients – a Peak protein breakfast. By advocating for a complete breakfast, we aim to promote a healthier lifestyle and enhance the overall well-being of Nigerians."
To ensure the success of this campaign, Peak Milk has curated a range of exciting activities. These include influencer marketing, User Generated Content, and digital amplification, all designed to engage and inspire consumers to embrace a complete breakfast with Peak milk.
During the National Breakfast Week and World Milk Day Campaign, Peak Milk will roll out a series of engaging initiatives, including interactive social media campaigns, informative content, and special offers. By partnering with influential individuals, leveraging User Generated Content, and amplifying the message through digital platforms, Peak Milk intends to reach a wide audience and foster a positive breakfast culture in Nigeria.
Peak Milk invites all Nigerians to join in celebrating National Breakfast Week and World Milk Day, as they aim to inspire healthier mornings, one complete breakfast at a time.